Hillcrest has two care facilities in Durham – Please click on the facility that provides the type of care you need:
Hillcrest Convalescent Center:
Hillcrest Convalescent Center offers Short-term Inpatient Rehabilitation, 24/7 Skilled Nursing and Assisted Living.
Hillcrest Outpatient Physical Therapy:
Hillcrest Outpatient Physical Therapy offers Outpatient Therapy and Wellness Programs.
About Hillcrest in Durham
Hillcrest Convalescent Center opened in 1951 as the first certified Skilled Nursing facility in North Carolina. Since then we have proudly remained at the forefront of senior care in the Triangle and beyond. In addition to Hillcrest Convalescent Center in Durham, we opened an outpatient physical therapy facility in 2018. Across both facilities, we are known and trusted by the area's finest families. We have earned a reputation as the premier senior care provider in our community with a total dedication to quality care and superior service for everyone in our care — whether for a short rehab stay, assisted living, skilled nursing residents, and outpatient physical therapy.
Everyone here at Hillcrest Durham is committed to you and your loved one's wellbeing. We know that needs change over time, and for those in our care we provide a seamless and worry-free transition to the most appropriate level of support for a safe and enjoyable quality of life as they age.
Hillcrest Hallmarks
Hillcrest's legendary Elegant Care cannot only be felt, but seen throughout the campus. Delightfully different wherever you look, it's a holistic approach with a goal of treating both the mind and the body.  People say our main lobby looks more like a luxury hotel than a healthcare facility. Relax by our rustic stone fireplace while listening to ageless piano classics on our unique Baby Grand player piano. Ease yourself into a plush sofa or elegant wingback chair — the entire environment is reminiscent of the gracious lifestyle of the Old South.
Hillcrest Durham provides pleasant surprises throughout our building. Designed around the Neighborhoods model of care, with small clusters of rooms with their own private living room and kitchen, Hillcrest Durham is more like home. Every aspect of Hillcrest Durham was designed with our residents and patients in mind.
Hillcrest Durham is tucked just outside of bustling downtown where residents and visitors can go to partake in local delights. The grounds are quiet, private, and peaceful and the spacious accommodations (with options for private, semi-private, and even fully-appointed two-room suites) are an ideal solution for anyone interested in being able to entertain or host friends and family. Hillcrest Durham offers residents unsurpassed privacy, personalized care, and convenience in the heart of the Bull City with the added support of a 24/7 skilled nursing staff.
Address & Contact Information
1417 W. Pettigrew St.
Durham, NC 27705
Outpatient Facility
4215 University Drive Suite B2
Durham, NC 27707
Elegant Care Offerings in Durham
From our stylish environment to our attentive quality care, we are proud of our tradition of Elegant Care. Whatever level of attention you or your loved one requires, Hillcrest Durham will be here to provide exceptional care and the kind of satisfaction that you'd expect from seven decades of dedicated senior care experience.
We know that you will fully recognize how different we are from the moment you visit Hillcrest for yourself. Be sure to get in touch with our team to schedule an in-person visit to see Hillcrest, or stop in anytime, we'd love to meet you.
Let The Sunshine In
Perhaps one of the most unique features Hillcrest offers is an interior environment bathed in sunlight. Skylights, garden terraces and state-of-the-art Solar Tubes™ bring the healthful and healing qualities of sunlight to our residents throughout our building. Living well at Hillcrest includes enjoying the wellness benefits of sunshine year-round without having to leave the comfort and security of our building.

Local Team
From our experienced Leadership Team to our compassionate RN's, LPN's, and Certified Nursing Assistants, we all work together as a team with one goal: To provide the best environment, the best care and the best quality of life for our patients and residents. Being the best is why Hillcrest has been the first choice for families that appreciate the value of quality for over seventy years.
LONG TERM CARE SERVICES & SUPPORT
Privacy, Dignity & Skilled Nursing Care
24 HOURS A DAY, 7 DAYS A WEEK
Our dedicated team of licensed nurses and nurse's aides, social workers, physical, occupational and speech therapists, registered dietitians and therapeutic activity professionals ensures the highest level of care, most comprehensive treatment and close personal attention to individual needs and concerns.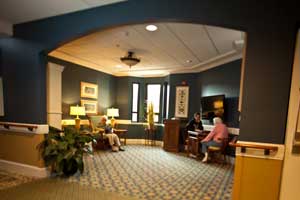 More Like Home
Hillcrest is organized into clusters of modern, fully furnished rooms and suites. Each "neighborhood" has it's own living room with plush furniture, settees and a big screen TV. There's also a neighborhood kitchen and nursing station. Recognized as the most innovative approach to residential care offering residents unsurpassed privacy, personalized care and convenience in a homelike setting.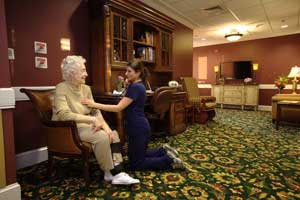 Personalized Care
A dedicated staff is regularly assigned to each neighborhood. Personal relationships are fostered between resident and caregivers.  We can remind staff of your daily pleasures with our scheduled care system, based on your personal schedule, not ours. This familiarity builds mutual respect which is at the heart of our personalized, elegant care.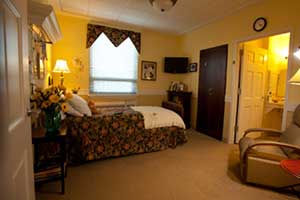 Superior Rooms and Suites
In addition to beautiful, completely furnished private rooms as well as semi-private rooms, five large, fully appointed two-room suites are also available at Hillcrest Durham. Suites are more spacious accommodations ideal for residents interested in entertaining or inviting friends or family for overnight stays.
Dining
Variety is the spice of life, and Hillcrest residents and guests have a wide variety of eateries and food services to choose from. For breakfast, lunch and dinner, residents enjoy delicious meals prepared by chefs and specially overseen by a Registered Dietitian to meet individual nutritional needs and preferences. In our 2-story central Square, our Crossroads Coffee and Hot Tea Bar is open early mornings into the evening.  Warm cookies are served there at 2pm every day.  Between meals, after hours snacks are always available upon request.