Dining at Hillcrest
Whenever You're Hungry, There's Something to Eat
Variety is the spice of life, and Hillcrest residents and guests have a wide variety of eateries and food services to choose from. For breakfast, lunch and dinner, residents enjoy delicious meal plans specially prepared by a Registered Dietitian to meet their individual nutritional needs and preferences. Between meals, our Crossroads Coffee Bar is open early mornings into the evening, and after hours snacks are always available on request.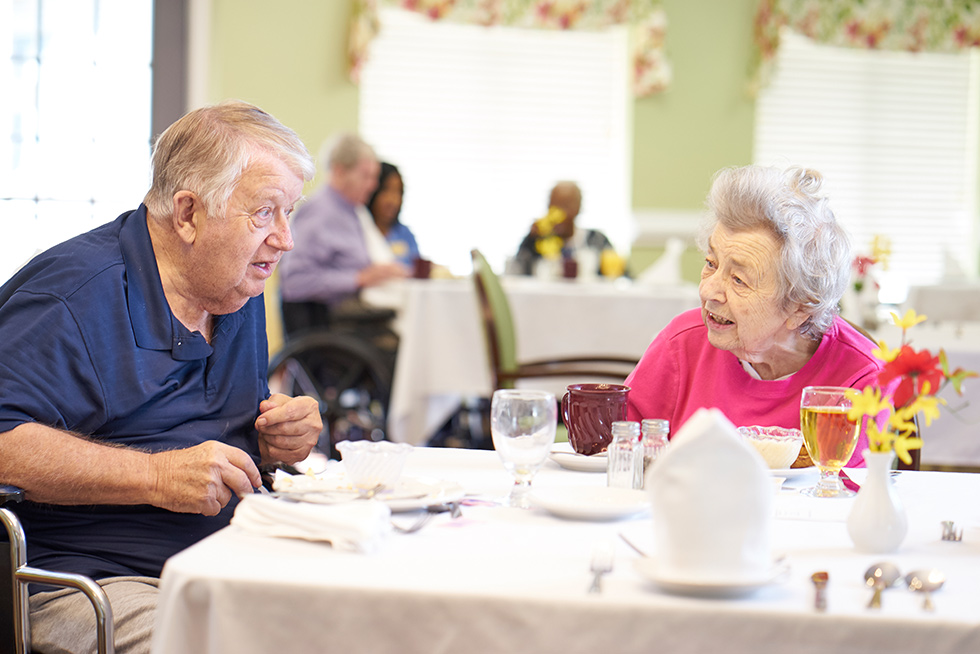 Restaurants, Cafés and Snacks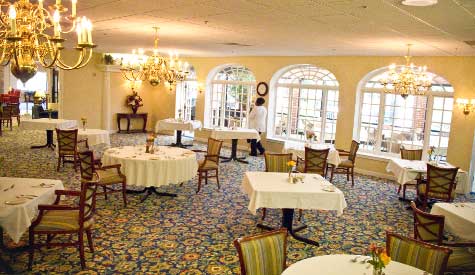 The Magnolia Room
With brass chandeliers, fresh cut flowers, linen tablecloths and beautiful stainless the Magnolia Room delivers a truly enjoyable dining experience. Open every day for breakfast, lunch and dinner. The Magnolia Room exemplifies the elegant lifestyle that is uniquely Hillcrest.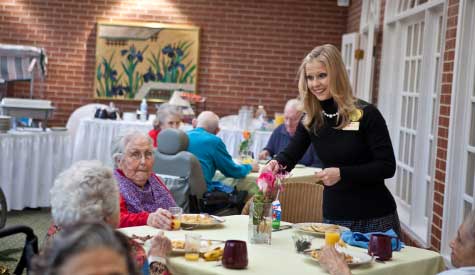 The Sun Room
This casual eatery is surrounded by windows and bathed in sunlight; with its comfortable wicker furniture and wonderful ice cream cart residents can enjoy informal breakfast or lunch – or a delicious scoop of ice cream while entertaining guests anytime.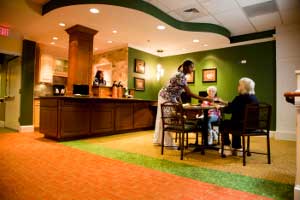 Our Own Internet Café
Great gourmet coffees and delicious sweets are always available. Located on our lobby level, the Crossroads Coffee Bar also provides computers with Internet access. Perfect for a quick change of pace – whether alone or with friends and family.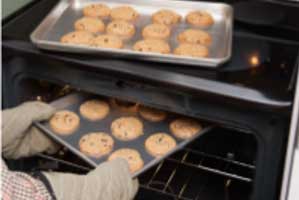 A Great Idea...
Every Neighborhood has it's own fully equipped kitchenette. Ideal for teaching grandchildren how to cook a favorite dish or bake a cake! Not to mention helping oneself to a special snack anytime. Our kitchenettes add a home-like flavor to life at Hillcrest.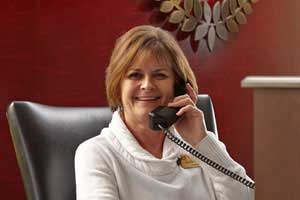 For Special Requests...
Have a taste for a local restaurant's favorite dish? Order in from our Concierge – and enjoy it in the privacy of your own room. Restaurant Room Service, another unique service to help you live well at Hillcrest.