Take a Virtual Photo Tour
Delightfully Different – Wherever You Look
Use the arrows to scroll through the photos of our facility.
Welcome
It's no coincidence that our front desk looks like what you'd expect to see in a luxury hotel. That's because a hallmark of our approach to senior care is the commitment to treat our residents as guests. This rare blend of healthcare and hospitality is why Hillcrest is the first choice of families that appreciate the value of quality care combined with an elegant lifestyle.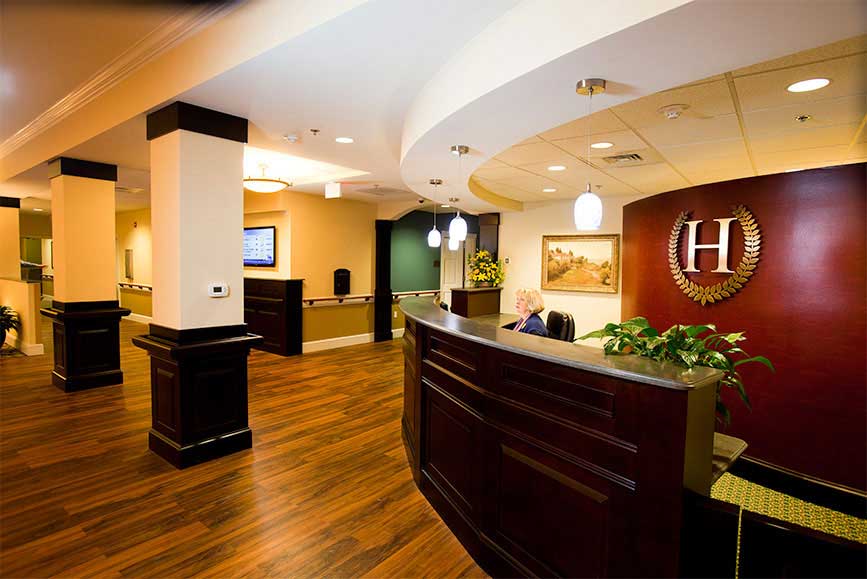 Our Main Lobby
Our inviting Lobby Lounge is a perfect introduction to the sophisticated yet comfortable Hillcrest lifestyle. Relax by our rustic stone fireplace while listening to ageless piano classics on our antique Baby Grand player piano. Ease yourself onto a plush sofa or elegant wingback chair, reminiscent of the gracious lifestyle of the old South.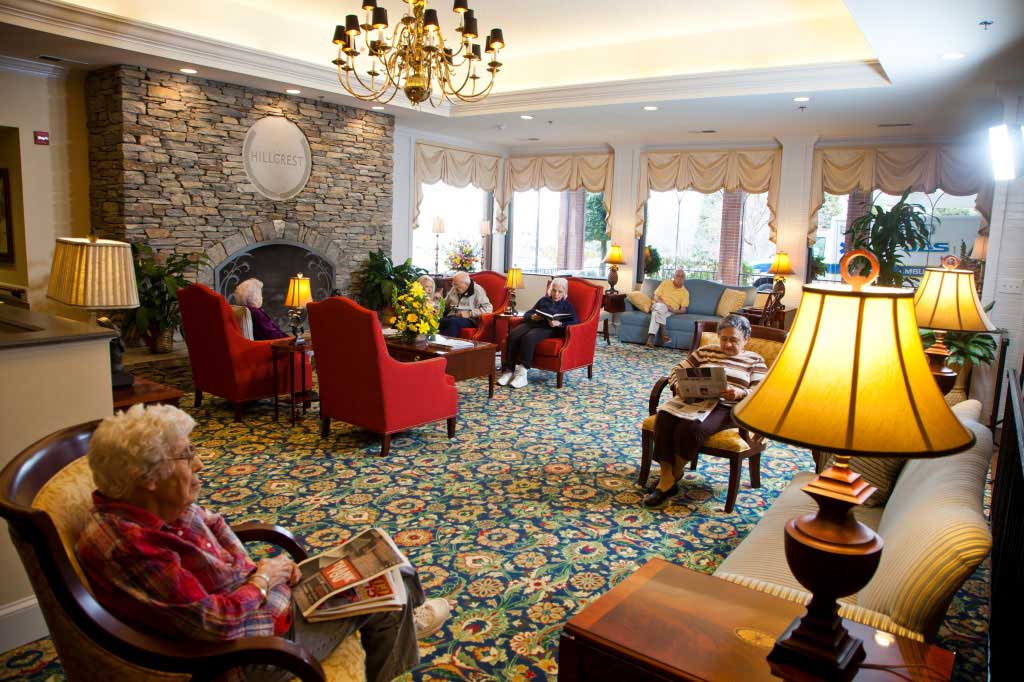 At Night the Mood Changes
As the sun goes down the soft glow of brass chandeliers changes the character of our main lobby to that of an elegant private clubroom. Sitting quietly by the fireplace is a wonderful way to end the day.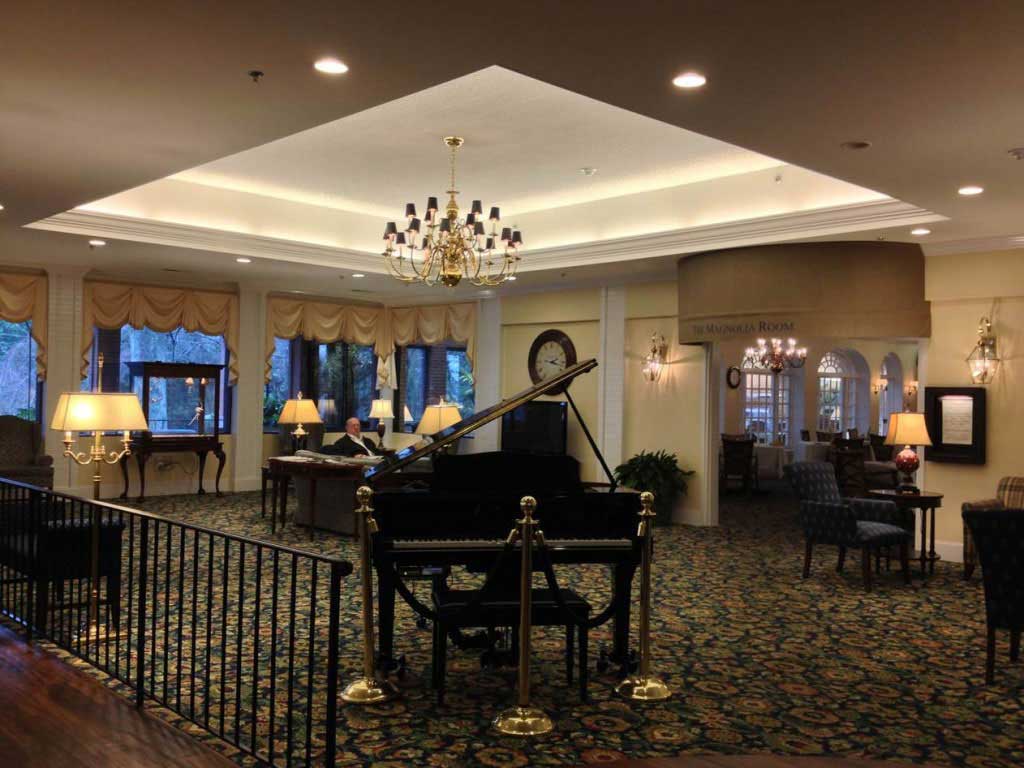 All Corridors Lead to "The Square"
Hillcrest is designed around a central multi-level atrium that leads to and from all Neighborhoods. This unique floor plan is designed to draw residents out of their rooms and encourage socialization. And it works. There is rarely a time when residents and their guests are not seen enjoying this wonderful space with it's aviaries, fish tank and lounges, all bathed in sunlight from the giant skylight atop the three story atrium.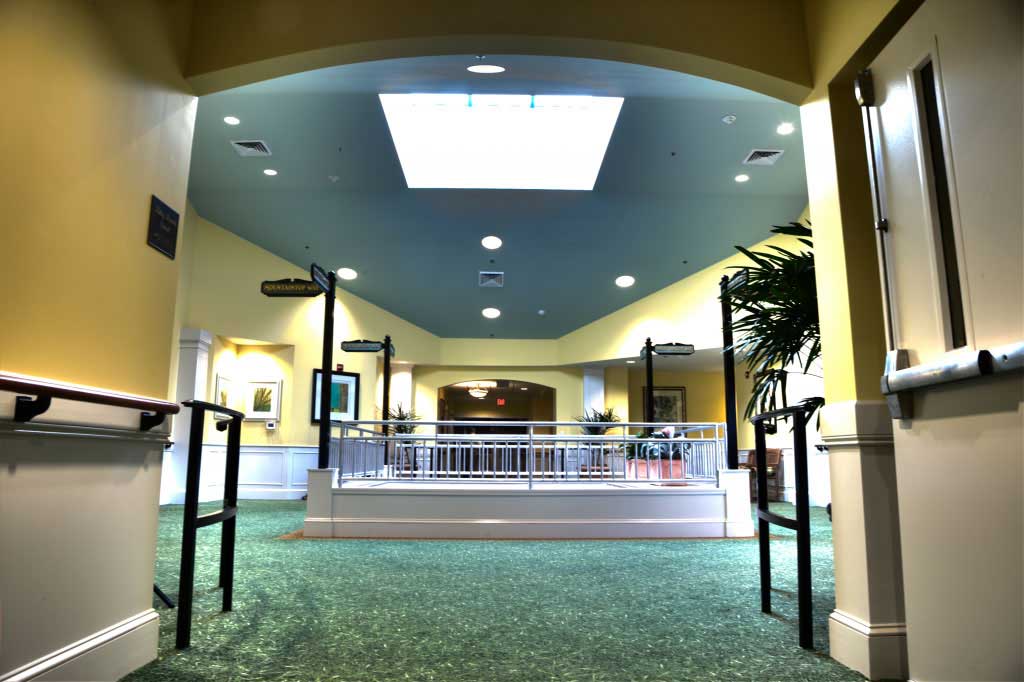 Cozy Niches Everywhere
Perfect for people watching, socializing or quietly reading a favorite book. Many of these charming and comfortable areas feature our unique Solar Tube TM technology bringing healthful, life-enhancing sunlight to our hallways and residents year-round.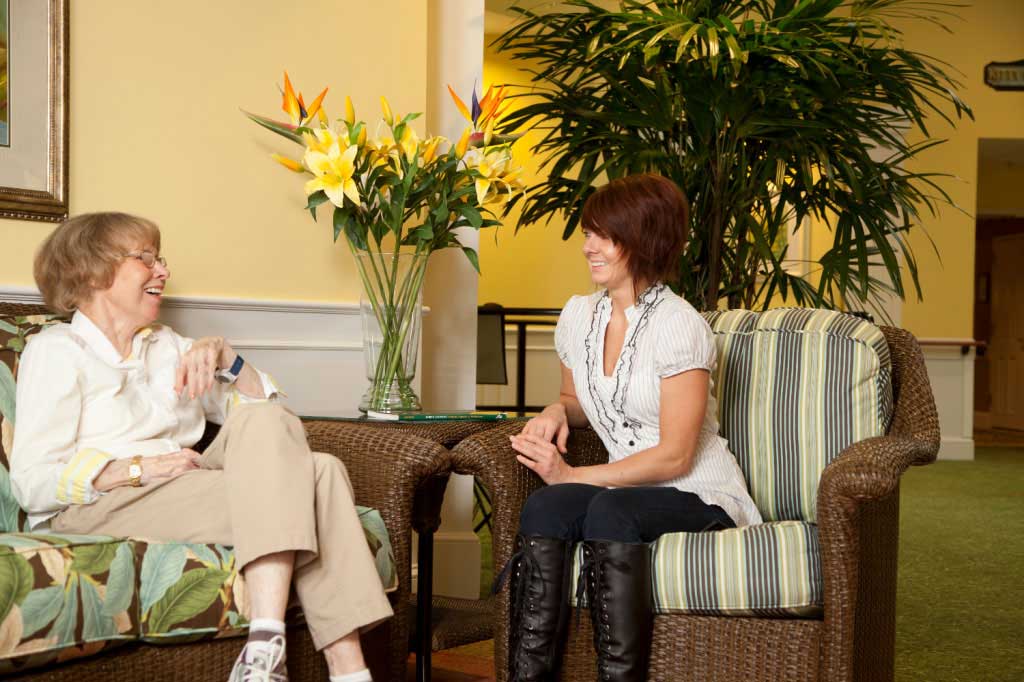 It's Great to be Outside
There simply isn't anything as refreshing or invigorating as a delightful breeze. Our Back Porch is a safe outdoor courtyard popular among both residents and their guests. This area is a delightful space for residents to enjoy the outdoors independently.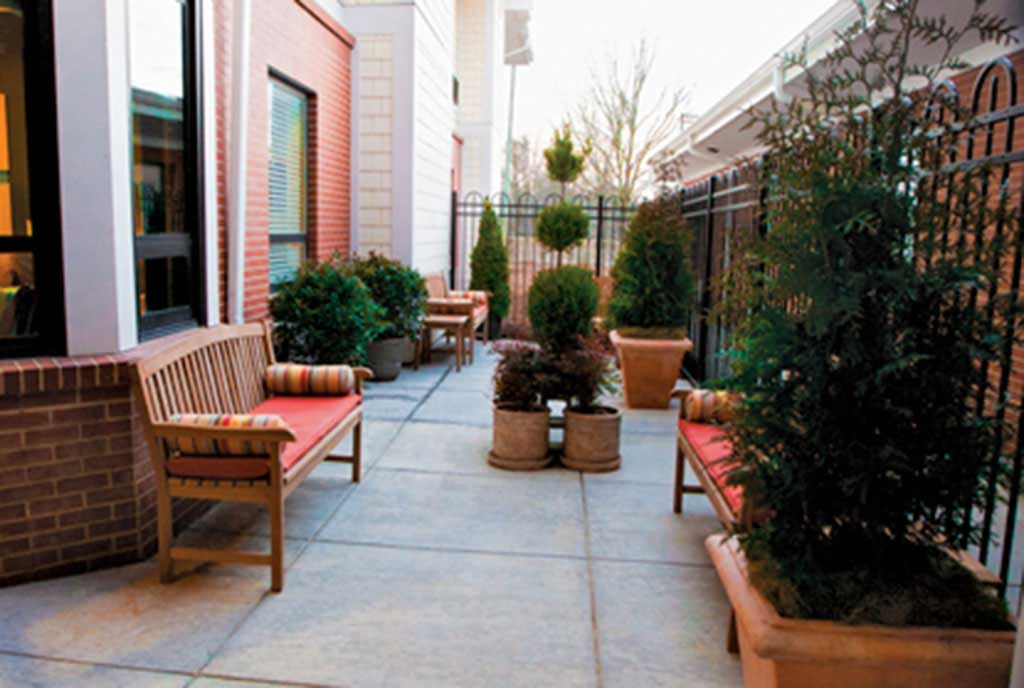 Our Own Internet Café
Great gourmet coffees and delicious sweets are always available. Located on our lobby level, it also provides computers with Internet access. Perfect for a quick change of pace – whether alone or with friends and family.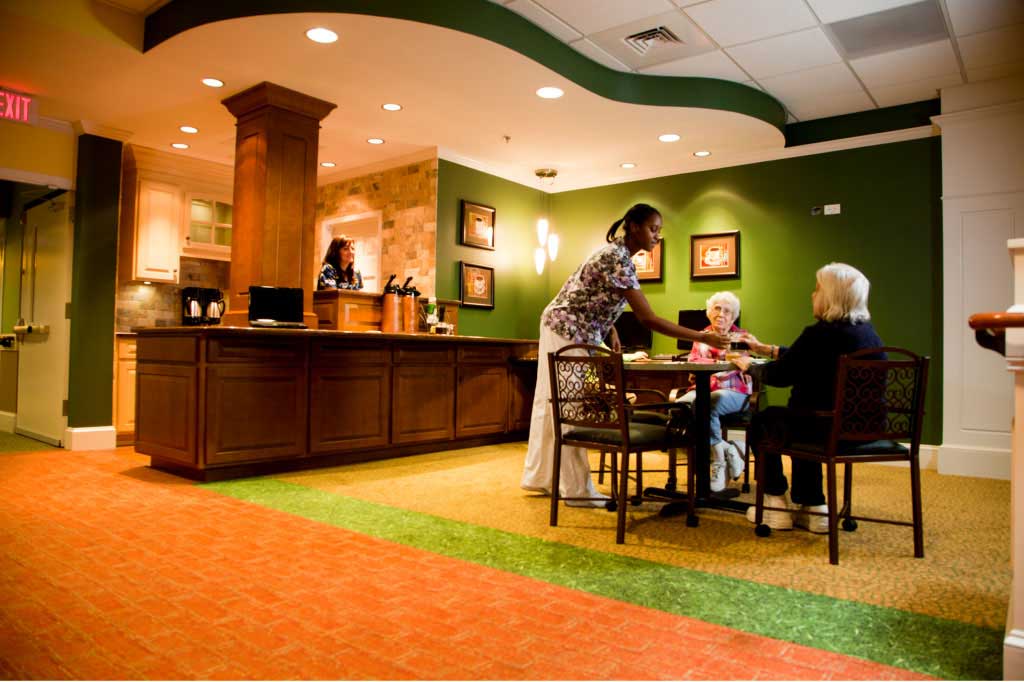 Hush…This is the Library
Wood paneling, comfortable seating and of course books of every genre make our library the perfect place to get away from it all… while catching up with the latest issues of your favorite newspaper, popular magazines and periodicals.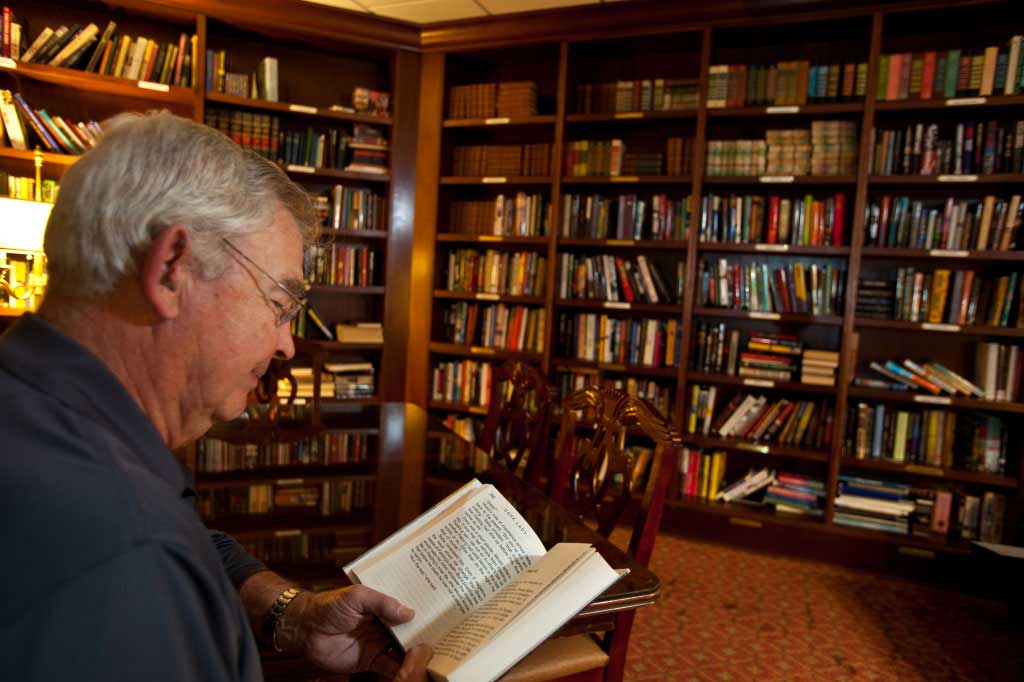 Our Chapel
Warm, inviting and intimate, the Chapel at Hillcrest features restored stained glass windows from the Erwin Mansion built on this site in 1907 and Hillcrest's original home. Non-denominational, our chapel is always open for meditation and prayer and has hosted weddings, memorial services, and baptisms for our residents and their families.