What is Hillcrest?
Though we began as North Carolina's first certified nursing home, today Hillcrest has become a leader across every level of senior care. From Post-Hospital Rehabilitation to 24/7 Skilled Care, from Assisted Living to Home Health and Outpatient Therapy and Wellness. Best of all, our signature Elegant Care ensures that all of our patients feel more like they're being pampered than being treated. So whenever you or your family need any level of senior care, we invite you to Think The Best, Think Hillcrest.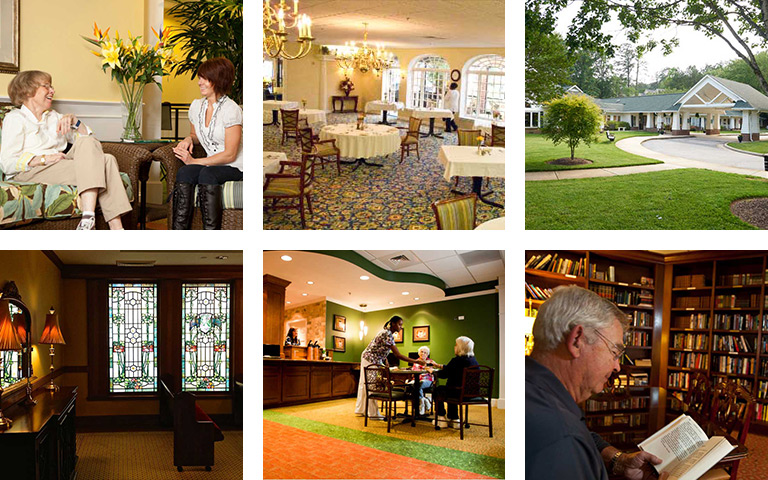 A Tradition of Elegance
Providing extraordinary senior care has always been at the heart of everything we do. For nearly seventy years that commitment has evolved into Elegant Care – personalized, top-quality healthcare in an elegant environment complete with the amenities and services of a luxury hotel.
I have known several people who have been residents at Hillcrest, some short term, some long term. When I have visited the facility, it has always a pleasant experience. The facility is always clean, well staffed and clearly well-run. The patients that I have visited have been well pleased with the care and attention they have received. The food is excellent and there are many activities for the residents. I happened to stop by on the day of their "Senior Prom" and it was wonderful to see them having such a good time. This facility actually has more of a upscale hotel feel to it than a nursing facility. I would recommend it to anyone faced with the need for a temporary rehab facility or for long-term care.
My mother spent almost two weeks at Hillcrest Raleigh after her total knee replacement in January 2017. She had a great experience and my parents both consider this facility to be top-notch. My mother worked in healthcare and my father is a retired pastor, and both have a lot of experience visiting people in facilities like these. Both of them stated that Hillcrest is among the best they have encountered. As with all medical and paramedical institutions, the food may not always be to your liking, but they are fine with you bringing in home-cooked food or takeout to your loved one. The physical therapy services were excellent. Highly recommended for recovery from orthopedic surgery.
Hillcrest Raleigh was great. My dad loved the food and the cheery atmosphere felt a lot more like home. Friends came by frequently because it was such a comfortable place. The director was awesome and approachable. The nursing staff was caring and attentive. In fact they came within a minute if the nursing button was pushed. That is not the case at other facilities we have stayed in. I highly recommend them and hope they have a room available if we need rehab again!
The staff was very accommodating and met specific needs during my father's stay here. Nursing supervisor went out of her way to communicate treatment plans and options.