A message from Cynthia Fayer, RN
Director of Nursing
Long Term Care & 24/7 Skilled Nursing Support
At Hillcrest, we know that family comes first. That's why, when making the tough decision about how best to care for your family or friends in the coming years, our team will help you take the uncertainty out of this difficult decision. We'll help make the transition from independent living to long-term residency effortless.
Our dedicated team of licensed nurses and nurse's aides, social workers, physical, occupational and speech therapists, registered dieticians and therapeutic activity professionals ensures the highest level of care, most comprehensive treatment and close personal attention to individual needs and concerns.
We want Hillcrest to feel like home & our team is always standing by to ensure every resident feels the warmth and hospitality the Hillcrest brand is known for.
Service Areas
Thanks to our extensive team of expert health care providers, we are honored to provide long-term care in both Raleigh and Durham, North Carolina. Hillcrest is privileged to count licensed nurses, nurse's aides, social workers, physical, occupational and speech therapists, registered dietitians and therapeutic activity professionals as dedicated members of our team.
These devoted individuals ensure the highest level of care, most comprehensive treatment, and close personal attention to each resident's needs and concerns.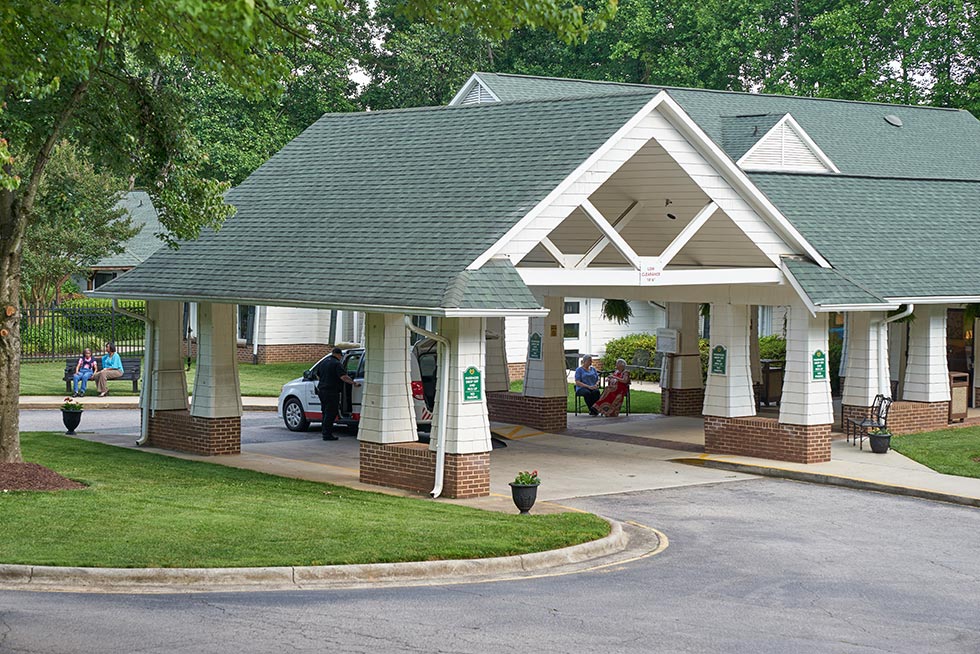 Long-Term Care in Raleigh, North Carolina
Hillcrest Raleigh is nestled in the hills above Crabtree Valley with an expansive six acres for residents and visitors to enjoy. The grounds are quiet, private, and peaceful and our indoor spaces are designed with comfort, elegance, and indulgence in mind. Throughout our building in Raleigh, there are soaring ceilings and stylish decor to make every chance encounter and conversation an opportunity for connection and delight. As friendships flourish at Hillcrest, there are endless opportunities for quiet conversation and shared time together with the support of 24/7 skilled nursing.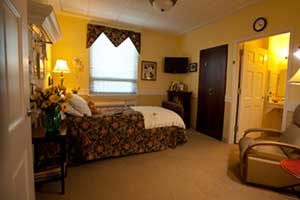 Long-Term Care in Durham, North Carolina
Hillcrest Durham is tucked just outside of bustling downtown Durham where residents and visitors can go to partake in local delights. The grounds are quiet, private, and peaceful and the spacious accommodations (with options for private, semi-private, and even fully-appointed two-room suites) are an ideal solution for residents interested in entertaining guests or hosting friends and family for overnight stays. Hillcrest Durham offers residents unsurpassed privacy, personalized care, and convenience in the heart of the Bull City with the support of 24/7 skilled nursing.
Amenities
During your residency with Hillcrest, we hope that our amenities will help reinforce a sense of belonging, of well-being, and of family.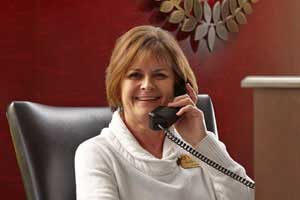 Concierge Services
Let us exceed your expectations. Whether it is a request for a special meal, a private luncheon with family, or a favorite book, residents can simply our concierge staff. We will be at your service–quickly, efficiently, and always with a pleasant smile.
The list of amenities for each location is unique & extensive; so we invite you to choose the location that is the best fit for you and your family to learn more. Whether you need long-term care in Raleigh or are looking for a Durham long-term care facility, Hillcrest's amenities offer the highest quality of ongoing care to our residents.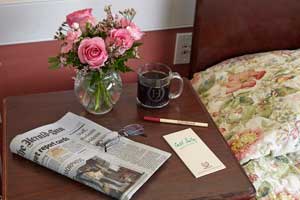 Daily Newspaper Delivery
Each and every morning our residents are able to start their day with their favorite local newspaper, delivered right to their bedside.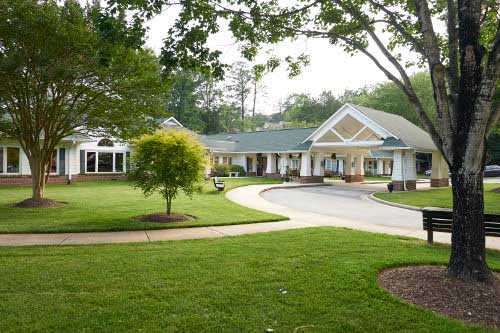 Distinctive Settings
Hillcrest Raleigh is situated on over 6 acres nestled in the hills above Crabtree Valley. Our private, park-like setting is surrounded by beautifully manicured lawns and landscaped gardens. Quiet, private and restful; yet conveniently located in the heart of Raleigh's lovely Crabtree Valley neighborhood.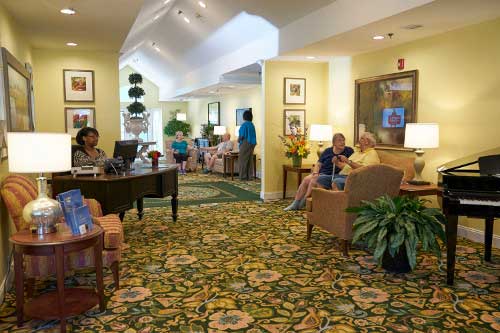 Beautiful Decore
From the moment you enter our main lobby, you'll experience a unique combination of a home-like warmth and hospitality combined with the visual excitement of dramatic vaulted ceilings and stylish décor. As you walk through the building exciting design features will surprise and delight you.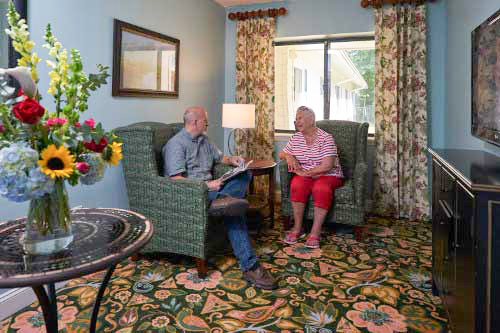 Distinctive Settings
Throughout the building there are comfortable lounges and personal niches where our residents and families enjoy quiet conversation, watch their favorite show on a big screen TV, or simply enjoy reading a good book.
Services
Long-term care is about more than just the space and culture–it's also about quality of care and a provider's ability to support each resident's needs as they navigate their later years. For example, while some folks may need to rely more heavily on medical expertise and assistance, others may look for social engagements & companionship opportunities.
Here is a list of services that our expert team provides to our residents at both locations, as needed:
Access to continuous licensed nursing
Assistance with activities of daily living
Medication management and administration
Dining three times a day or when desired, along with in-between meal snacks and treats
Restorative nursing
On-site rehabilitative care if needed
Recreational activity programs
Housekeeping and personal laundry services
Pet therapy program
These additional services are available to our long-term care residents living at our Durham location:
Spa tub baths and maintenance exercise programs
Hillcrest Signature Life Enrichment Programs to encourage the highest quality of life
On-site pharmacy & Registered Pharmacist
No matter the level of support you may require now and in the future, the staff at Hillcrest stands ready to be the solution you are looking for.
Hillcrest's Continuum of Care means we may have an alternative choice for your care needs.
Hillcrest offers families in need of long term care more than just residential 24/7 skilled nursing. Our continuum of senior care services includes two alternative options.
YOU MAY WANT TO CONSIDER: